"The Placette has some of the most refined, delicate, and utterly silken reproduction of high frequencies that has ever graced any system of mine. To be brief, under circumstances that I can control or am otherwise familiar with, I haven't heard a better pre-amp than the Placette"
Paul Seydor... "The Absolute Sound" (issue 125)
More Reviews . . .
Bent Silver TX102 to Placette Remote Volume Control
Discussing Placette Remote Volume Control
AudioReview.com
The Audiophile Voice
Soundstage
Audiogon
10 Audio
Stereophile Remote Volume Control Passive
Stereophile Active Linestage
Stereophile / Search
Lewis Lanise, "The AudiophileVoice"
"How do you review a pre-amp that does not seem to have a sonic signature of its own?....In fact, the Placette comes as close to becoming the proverbial 'straight wire with gain' as any pre-amp I have had in my system. This is high praise indeed!"
Ken Micallef, "Soundstage.com"
"The first thing that hit me between the ears was the soundfield. Like light blasting into a dark room, the Placette Preamp imparted new clarity and focus to my rig. the Placette simply ushers in a new level of resolution and relief. The entire soundfield seemed somehow elevated and more transparent, with more of a see-through. The Placette's brilliant ability to resolve inner detail and present music largely uncolored is admirable."
Neil Gader, "The Absolute Sound"
"In a word, the Placette delivers as promised. It's colorless, characterless, and a joy to listen through rather than "to". And it does so with a sense of control and precision and preternatural silence that is addicting."
Neil Gader, "The Absolute Sound"
The Placette Remote Volume Control enlivened proceedings markedly. The noise floor was distinctly lowered. Gone was the lack of image specificity - the tendency to blur the line between one instrument and another. Gone was the softness of transient attack and the gentling of micro-dynamics. Indeed, I had the sense that a window had been thrown open and a fresh blast of high-frequency air was wafting around the music."
"The Wall Street Journal"
and
"Leisure & Arts"

The Future of Sound: SACD
By: EDWARD JAY EPSTEIN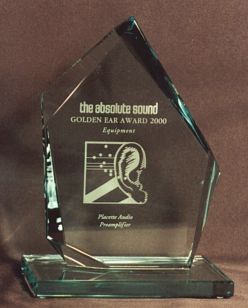 Golden Ear Award